Restaurants & Dining
Port Douglas is known for having the freshest seafood and some of the most superb local produce. While you enjoy your stay in Tropical Far North Queensland make sure you try all the delights that come straight from the ocean onto your plate. A lot of the restaurants in Port Douglas offer diners a great view to go with a great meal.
You don't have to limit yourself to seafood, you can choose from Modern Australian, Italian, Japanese, Chinese, Indian and good old fashioned Aussie pub grub.
In addition to some great regular restaurants and cafes, there are also some fantastic dining experiences - 'dinner and a show' style, featuring educational and entertaining performances. Do not miss this chance to soak up some local traditional culture on your visit to Port Douglas!
Port Douglas Dining Experiences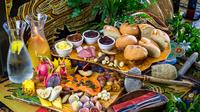 Enjoy this small-group food and wine tour featuring the tropical delights of the Atherton Tablelands from Port Douglas. Eat your way through the day starting with morning tea at Tjapukai Aboriginal cultural park followed by a stop at De Brueys Boutique Wines where you'll sip tropical fruit wines. Enjoy a delicious lunch and boutique beers and spirits at Mount Uncle Distillery nestled in coffee and banana plantations and a visit to Gallo Dairyland a working dairy farm and gourmet cheese factory for cheese and beautiful hand crafted chocolate tasting. Mid afternoon stop in at Jaques Coffee Plantation for an insight into coffee from tree to cup and enjoy the very best locally grown coffee 'as you like it',  followed by a quick trip through the 'Outback' to spot a platypus whilst tasting Queensland wines and beer and homemade Tableland dips.
If you're looking for a more conventional dining experience, check out the restaurants category in our Port Douglas Directory.