Port Douglas Adventure Activities
Port Douglas may be a great place to relax but it is the perfect location for some seriously fun adventure activities covering land, sea and air. Whether you sign up for windsurfing lessons off Four Mile Beach, 4 wheel driving Safaris along the rough outback tracks or learn to scuba dive on the reef you'll be doing it all in one of the most beautiful settings on Earth.
There is almost no end to the adventurous things to do in Port Douglas yet adrenalin junkies still create new and exciting activities. Give Jungle surfing a shot as you fly through the rainforest canopies attached to a flying fox zipline. The trees rushing past is a truly exhilarating experience!
Port Douglas really does have it all (even activities for those who aren't as adventurous). Take a look at the options below and start making a "To Do" list for your next holiday.
Adventure Activities Port Douglas
Barron River & Russell River White Water Rafting
The only way to experience pristine rainforest, crystal clear rivers and breathtaking scenery is to take a white water rafting trip, a full day on the Russell River or a half day on the Barron River.
Bungy Jumping in Cairns
Located in the adventure capital of Australia, the Cairns Bungy Tower is set in lush tropical rainforest, occupying 7 acres of unique land surrounded by pristine world heritage listed rainforest.
Jungle Surfing in the Daintree
Jungle Surfing is a unique and exhilarating way to experience the beauty of the world renowned Daintree Rainforest. Jungle Surfing offers unparalleled access to the heart of the Daintree from the bustling forest floor to the giants that tower above the canopy.
More Outdoor & Adventure Activities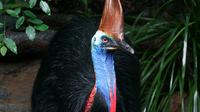 Visit the award-winning Wildlife Habitat and get up close to Australian native flora and fauna. This wildlife experience just outside of Port Douglas has been created to provide a window into the natural environment. There are four different environments to explore – the Savannah, Rainforest, Wetlands and Woodland each with unique habitats.
Set sail from Port Douglas for a day of snorkeling and adventure on the Outer Barrier Reef.Immersed in the northern frontier of Great Barrier Reef, this is the perfect sailing and snorkelling adventure for a conservation minded visitor. Ideally suited to those who can swim and have a spirit of fun and adventure.  The white sands of the coral cays are surrounded by tropical waters filled with fish, turtles and coral. This smaller cruise is limited to just 45 passengers, ensuring good company and helpful assistance from the crew. A buffet lunch is included, along with a reef interpretation talk, a guided snorkel tour and a glass-bottom boat with an expert marine biologist as your guide.Discerning guests can fully enjoy an inspiring full day of adventure using wind power to the absolutely stunning sand cays on the Great Barrier Reef in the most environmentally way!
Starting with a gradual climb before descending into the valley below on a tight challenging single track and rolling ex-forestry trails through dry river beds and short climbs amongst the forests of the Great Dividing Range. Upon parking the bikes we take a short hike along a scenic creek with all the different plants and wildlife before reaching the beautiful Hartley's Falls and swimming hole. After a refreshing dip and a light lunch we're back on the bikes with a short cross country ride along the ex-forestry trails to the flat rock falls with natural spa pools where the group will once again have time to look around and soak in everything this track has to offer. As we ride out of the valley up above Hartley's Creek, we will have the opportunity to see ocean views and sunny beaches of North Queensland before arriving back at the bus.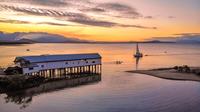 Departing on Monday's and Friday's from the picturesque Port Douglas marina, our sunset and stargazing cruise combines a beautiful sunset with wildlife spotting and a stargazing session of our brilliant north Queensland night sky.

Our adventure cruises are designed to do something no other Port Douglas tour has offered before, taking you on a journey in time and place in a magical and mystical environment.

Tours depart at 6:30 pm and last approximately 1 hour and 45 cruises. Whether you have an interest in the environment and astronomy or just want a relaxing evening cruise, these trips are not to be missed!